Thank you for taking the time to read about my fat loss journey.
My name is May.  By sharing my story, I hope to inspire every mom I know.  It is possible to have flat, sexy, abs after having your beautiful babies (this goes for dads too!).
I am a 45 year-old business woman, who is happily married to my soul-mate, and a proud mother of three "divas" aged 13, 10 and 7.
By eating right and exercising regularly, I maintained my weight throughout high school, university and into my 30's.  However, after three pregnancies I watched my flat 25" waist gradually expand into an annoying muffin top.  As a new mom constantly putting the needs of my family first, my meals consisted of the kids' leftovers (chicken nuggets and Mac & Cheese), protein bars and protein shakes, eating under 1,000 calories a day.  Because I wasn't eating enough, my metabolism took a dive causing my body to hold onto fat.  Finding time to exercise was difficult, I had zero energy.  When I did make an effort to start a program the novelty would wear off because I wasn't seeing any real progress.  After my youngest was born, I committed to making myself a priority and make a change. My combination of diet and exercise was not working so I decided to enlist the help of a professional trainer/nutritionist to help me achieve my goals.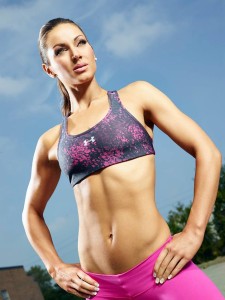 I began working with Jennifer Van Barneveld-Pe (aka Coach JVB) in April 2013.  I met her and her husband, Vince Pe, at the gym in Sept 2012 and began to follow her on her Facebook page under JVB Fitness and Nutrition.  I was inspired and followed the transformation journeys of her clients who are now good friends.  Coach JVB is a Fitness Model, Diet Coach, On-Line Trainer and a Registered Holistic Nutritionist.  She is the sweetest woman you'll ever meet, and has a sincere desire to help each one of her clients achieve their goals.   She's also stunning and I thought she was the perfect Fitness Role Model for me.  In fact, what woman doesn't want to look like her?  I knew back then that there was a reason why we met and this was it.
Coach JVB asked me to send pictures and complete a questionnaire outlining my wishes, which were:
To get rid of my muffin-top and achieve lean sexy muscles and abs (not even blocks, just a line down the middle would be nice)
Shrink my boobs from the ridiculous 34DDD, but leave me with at least a C-cup
To get a new booty – I never had one.
Within a couple of days I received my new STRONG GIRLS' plan and went to work.  It looked similar to other weight loss programs.  But this time, the difference was that it was customized for me – my age, size and body type, my physical level of fitness, my goals, and my challenges.  For the first time I felt confident that I could really do it this time.  With each biweekly check-in I began to see results and was motivated and determined to achieve my goals.
To top it off I became part of team STRONG GIRLS/STRONG ATHLETES.  A group of 200+ like-minded individuals supporting one another daily through their fat loss struggles.  I honestly would have quit a long time ago if it wasn't for their constant motivation.
The STRONG GIRLS' Philosophy:
Hydrate
Eat Right (Watch your portion size)
Train Hard (But Exercise Effectively)
Be Consistent
Stay On-Plan & Don't Miss A Workout
Get enough sleep
Repeat
If you mess-up, Correct & Continue (i.e. just get back on plan – No Big Deal!)
My Transformation Journey
About two months into my program, I joked around with Coach JVB about competing in a bikini competition.  Who am I kidding?  I'm 5ft. tall, over 40 years old and had a typical mommy tummy.  I honestly thought you had to be at least 5.8″ to compete.  To my surprise she replied, of course they have a category for you; then she encouraged me to compete in both the open age category (18+) and Masters (40+).   My eyes lit up and I replied, "No way, seriously?  Let's do this, I'll get my abs for sure!"  Most people would have been satisfied with getting rid of their muffin-top, but I wanted to push myself to my limits.  We had just upped the ante.  I went from wanting to lose a few pounds to wanting the Victoria Secret Body!  I knew it was going to be a long haul but I was driven and committed to the challenge.  Coach JVB was gonna make me look HOT, like her!  I would kill for her body!  Can you imagine how friggin excited I was about that!  The goal was to compete at the July 2014 IDFA Championship (International Drug Free Athletics, Natural Bodybuilding Competition).
Competing is not for everyone.  In fact following the meal plan and exercising was the easy part. Throughout my journey, I conquered insecurities that many women have about self-confidence, body image, self-doubt, and inner strength.  It honestly took every ounce of sheer determination and trust in my coach and the process to earn the right to be on that stage.  Now I knew why the Team was called Strong Girls' – it stood for not only physical but also mental strength to conquer anything.
Did Coach JVB and I accomplish our goals?  Well let's review my wish list.
Get rid of my muffin-top and achieve lean sexy muscles and abs (I got way better than I wished for)
Shrink my boobs from the ridiculous 34DDD, but leave me with at least a C-cup (thank goodness I didn't lose all of it)
New booty (no more pancake ass for this mommy!)
Yep, Coach JVB seriously knows her stuff!!!  I can go into detail with the number of pounds and inches that I lost but I think these pictures speak louder than words.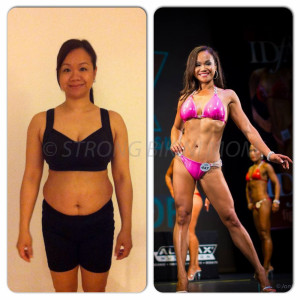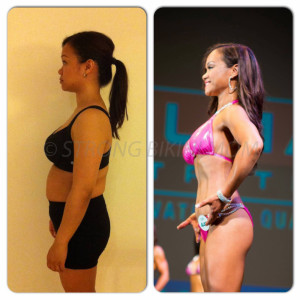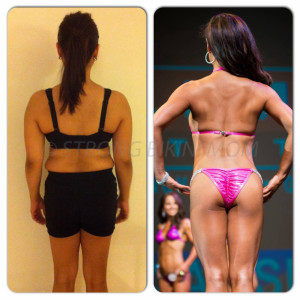 Competing was a humbling experience and I felt honoured to be on stage with some of the most beautiful and ripped women I have ever met.  The best way to describe how I felt about the Competition Day is surreal. It was amazing to share my journey with fellow Strong Girls: Wendy Di G. (aka Grannies with Guns) & Nelly Y. (Nelly Youakim Fitness & Health), and to have my family, friends, and Strong Girls and Athletes there to cheer us on.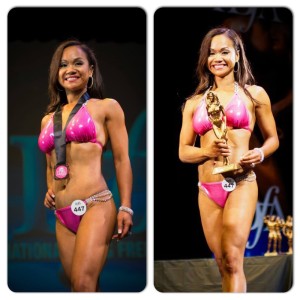 I am passionate about doing everything you can to be at your best and I hope to inspire as many hard working moms (and dads) to achieve their health and fitness goals.
Happy Mom = Happy Hubby + Happy Kids
Live a Full Life – Follow Your Passion!
I am a firm believer in following your passion and that things happen for a reason. After my transformation, I fell completely in love with health and fitness.  I am passionate about helping mothers achieve their fitness goals.  I left a successful career as an Account Executive at a Top Communications Company.  After my bikini competition, the opportunity to become a certified personal trainer literally fell into my lap and the timing was perfect.  Now, I specialize in Diastasis Recti and Urinary Incontinence; helping women re-train their core and pelvic floor muscles.  I integrate this into all of my programs so my clients strengthen their bodies from the inside out.
Diastasis Recti occurs in about 99% of women after pregnancy where they end up with a split between their abs.  If they had a natural delivery they also experienced trauma to their pelvic floor muscles and should see a Pelvic Floor Physiotherapist (PFPT) and work with a Personal Trainer who is certified in correcting Diastasis Recti and Restoring Pelvic Floor Health BEFORE starting an exercise program.
Incontinence is the lack of control and you pee by accident due to weak bladder and pelvic floor muscles or overactive bladder muscles.  It mainly occurs in women after pregnancy and menopause, but also occurs in men.  Although it is common, it is NOT normal, and is 100% treatable.  That's right, you can correct this through effective exercise.  In fact I have had clients who report improvement after just one week.
Once the baby is born, it's all about the baby and everyone forgets about mom.  I wish I had this support, but I'm grateful that I have this knowledge now.  Even if your youngest is older, it's not too late to have an assessment, but get it done asap.   Ignoring it will lead to weakening of the pelvic floor and eventually urinary incontinence.
In Canada, check-out Bellies Inc. for a certified PFPT and Personal Trainer in your area.
Follow me as I continue my journey living the STRONG GIRLS' lifestyle.  It is a proven way of achieving your pre-pregnancy body.  This Strong Bikini Mom has some exciting things planned stay tuned….