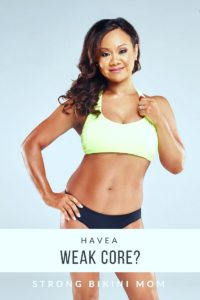 Does it feel like you're not able to engage your core muscles?  If you have children, are you frustrated because no matter how hard you try it looks like you are still pregnant?
"Mommy Tummy" results from a condition known as Diastasis Recti [di-a-stay-sis rek-ty].  It is the separation of the Rectus Abdominis muscles due to the weakening of the connective tissues called Linea Alba, that connect the two muscles.  This may be the reason why you're having difficulty engaging your core muscles and causing all the frustration.  It would make sense to find out if you have Diastasis Recti and correct it so that you can maximize results from your workout program.
In order to explain what Diastasis Recti is in more detail, we should have a look at the basic anatomy of the stomach muscles.  The left image is a Normal Abdomen, the right Image shows what Diastasis Recti looks like.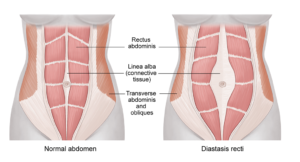 THE FOUR CORE MUSCLES
Your Core is made up of four Core Muscles that work together to expand and contract during breathing.  They also support your back and all the organs contained within your pelvis and abdominal cavity.  The four core muscles are made up of the following:
The Diaphram (the muscle that helps with inhalation during breathing)
The Transverse Abdominis and Obliques (a.k.a. "the corset" this is the innermost layer of abdominal muscles)
The Multifidus – this is the muscle that stems from your spine to support your back.
The Pelvic Floor Muscles – this tiny muscle supports all of the organs housed in your pelvis (including your bladder, uterus (womb) and rectum)  That's a lot of important organs sitting on top of a tiny muscle.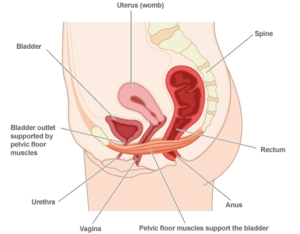 DIASTASIS RECTI is caused by constant intra-abdominal pressure on the two Rectus Abdominis muscles.  On very lean individuals, these Rectus Abdominis muscles give the appearance of  having "six pack abs".  During pregnancy, the Linea Alba (the connective tissue between the two Rectus Abdominis muscles) stretches during your pregnancy to make space for your growing baby.  The body has a natural ability to heal itself post-pregnancy as your uterus begins to contract and return to normal.  When the Linea Alba doesn't heal completely you are left with a separation or DIASTASIS RECTI.   The separation can be anywhere from 2-8 fingers apart.
Other Conditions resulting from imbalances of the four core muscles are:
Urinary Incontinence – this is when you leak urine by accident during vigorous exercise or when you laugh, cough or sneeze.
Prolapse of the bladder, uterus, or rectum – this is when your organs feel like they're "falling out"
Low Back Pain
Constipation
Pain during sex
Pelvic Pain
Hip Pain
MOMS ARE NOT THE ONLY ONES WHO CAN HAVE DIASTASIS RECTI
Diastasis Recti can also occur in:
Overweight Men and Women – the added weight causes a strain on the Linea Alba
Individuals who have suffered a fall or any trauma to your back, abdomen or lower body.
Individuals who have had surgery on their low back or abdominal muscles.
ARE YOU IN AS MUCH SHOCK AS I WAS?
I know what you're thinking. How come this is the first time you're learning about this?!  This is exactly how I felt when I found out that I had Diastasis Recti.  After delivering my third child, my Diastasis Recti was pretty wide.  When I asked my Ob/Gyn what can be done, she offered surgery, which I didn't want so I just accepted the fact that I'd have to live with it; that is until I became a Core Specialist and learned that it could be treated without surgery!  Unfortunately, there is currently a HUGE disconnect between our medical and health practitioners in terms of educating women about Diastasis Recti and it's effects on a woman's ability to restore her core and pelvic floor strength.
HOW CAN YOU FIND OUT IF YOU HAVE DIASTASIS RECTI AND CAN IT BE CORRECTED?
The good news is that Diastasis Recti CAN be corrected with a series of corrective exercises in as little as 6-8 weeks. The goal may not necessarily be to close the gap but to focus on strengthening the Linea Alba that holds the two Rectus Abominis muscles together.
Pregnant women can begin pre-natal exercises that incorporate Core Breathing exercises to prepare for childbirth and minimize the degree of Diastasis Recti they may end up with afterwards.
Mothers should re-train their core and rehabilitate their pelvic floor muscles after their 6 week check-up with their OB/GYN or Mid-Wife.
Even if your youngest is 1 month, 1year old, 10 yrs. old or 30 yrs. old.  it is never too late to fix this.
GET A FREE VIDEO DEMONSTRATING HOW TO DO A DIASTASIS RECTI SELF ASSESSMENT
Here is a video that demonstrates how to complete your Diastasis Recti Self-Assessment.   If you think you have Diastasis Recti, I can help correct it.  After you do the Self-Assessment, complete the questionnaire (Click Here) so that I can recommend the best solution for you.  The sooner you get started the sooner you can fix this and learn to engage your core effectively.  In the meantime, avoid doing crunches, sit-ups and planks – stay tuned for my next blog post that explains why…..