Imagine the thought of getting sexy abs without crunches!  When it comes to getting back into shape after having babies, women don't think about re-training their core and rehabilitating their pelvic floor muscles.  The first thing they do is jump into their old workout routines only to get frustrated because they didn't achieve the results they were hoping for.  Even those who have successfully achieved weight loss may find that they still have a pooch.
*NEW LOCATION LAUNCHING IN MARKHAM WINTER 2018*
We are excited about launching a Beginner Core Conditioning Class to teach women how to correctly connect with their core and engage ALL four of their Core Muscles wrapping around from their spine to their abs. This class will help mothers re-train their core BEFORE getting back into their regular fitness program.
Who is this class for?
Women with weak core muscles.
Women who are considering pregnancy or are already pregnant.
Women who have recently had a baby.
Women whose babies are already in school and are frustrated because they still look pregnant.
Women who pee by accident (aka Urinary Incontinence) – this is a common condition, but it is NOT normal and we can help correct this, so you don't end up in diapers later in life. Contrary to some messages you have seen on various social media platforms, it is NOT cool to urinate during exercise.
Fit Moms who have success with weight loss, but feel they are not able to engage their core correctly to get the desired results.
What can you expect?
Our classes are limited to six participants and will be available on a first come first serve basis. Due to demand, we recommend registering asap if you are interested.
The DR Core Conditioning Classes will be taught by a certified Bellies Inc. Personal Trainer who specializes in Diastasis Recti and Pelvic Floor Health.
Classes will be held once a week for 8 weeks.
The goal is to help re-train your core and develop stronger muscles.
After the 8-week class, you may begin your regular workouts with the confidence of knowing how to engage your core effectively for maximum results.
There are no guarantees, however, women who have completed this class have reported improvement with their Diastasis Recti in as little as two weeks and Incontinence in as little as four weeks.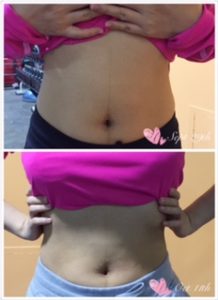 DR CORE CONDITIONING CLASS DATES & TIMES:
DURATION:               8 weeks (Date TBD)
DAYS/TIMES:          TBD
RATES:
8 Sessions – once/week
Includes Diastasis Recti Assessment (Value of $100)
One-Time Payment of $620 plus tax or Two Monthly Payments of $350/month plus tax
PRE-REQUISITE FOR BEGINNER CORE CONDITIONING CLASS:  All participants must have an assessment completed by a Bellies Inc. Certified Trainer. The assessment will confirm if you have Diastasis Recti, Incontinence due to Diastasis Recti, and a postural assessment to determine the effects pregnancy has had on your posture.  This will take approximately 1.5hrs.  It will provide the trainer with specific details to help you achieve the best results.
The assessment fee is $100.00 plus tax by May Rabano or Annette Chen.  If you decide to take action and sign-up for the class, the assessment is included in the class fee.
What's Included in the DR Assessment?
We will confirm if you have Diastasis Recti and check for your ability to connect with your Pelvic Floor Muscles.
Analyze your posture and identify any muscle imbalances (including how previous pregnancies have changed your posture).
Identify tight muscles causing stress and tension.
For any conditions that are outside of the scope of practice to rehabilitate your pelvic floor muscles, we will refer you to a Pelvic Floor Physiotherapist for further assessment.
HOW TO REGISTER:
Book and complete your DR Assessment by contacting the trainers – see below.
ONE-ON-ONE PERSONAL TRAINING SESSIONS:
If classes are not for you, one-on-one personal training sessions are also available.  Please complete the questionnaire to get started.  You will get a response within 24-48hrs.
NOTE:  Due to demand, there is currently a 4-week wait list for 1:1 Diastasis Recti Personal Training.
CONTACT INFORMATION:
TRAINERS:
Annette Chen and I are both Certified Personal Trainers and Certified Diastasis Recti (DR)/Core Specialists through Bellies Inc.  We are also mothers and Annette is a grandmother (I know eh, Holy Hot!).   We can relate to the challenges you go through raising a family and trying to get into shape.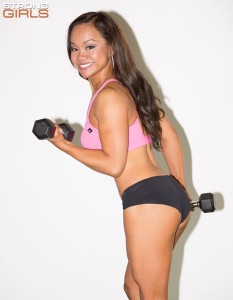 CLUB ADDRESS:    
May Rabano 
Email:  Strongbikinimom@gmail.com
Annette Chen
Email:  Annette@glammafit.com